My Experience
26.07.2016
Armenian by Choice
"Loretsi" Brian: A Peace Corps Volunteer Extends His Stay for Another Year in Armenia

It's not completely uncommon for an Armenian of the diaspora to volunteer in Armenia and extend their stay. Just ask a few volunteers from
Birthright Armenia
,
Armenian Volunteer Corps
, and scholars from the
Fulbright
program and
Luys Foundation
and they will tell you that Armenia is like a magnet that draws them in. Many will claim that there is something magical in the water.
But the case of Brian Leopold, an American
Peace Corps
volunteer extending his stay for another year in Armenia, is different. He is not from the diaspora. He is not even Armenian at all.
Brian Leopold, also known honorably by the locals as "Loretsi Brian" (meaning Brian of Lori) is from Detroit, Michigan, and is now living in the town of Tumanyan nestled in the Lori region of Armenia around 149km north of the capital Yerevan. At a height of 810 meters above sea level, Tumanyan (Armenian: Թումանյան) was known as Dzaghidzor (Armenian: Ձաղիձոր), but was renamed Tumanyan in 1951 in honor of the famous Armenian poet Hovhannes Tumanyan.
Although quite rural, four years after the inception of the independent Republic of Armenia, the status of Tumanyan as an urban settlement was reaffirmed. Tumanyan was always known as one of the cultural centers of the Lori region, replete with an ethnographic museum, an art academy, and a house museum and famous statue paying tribute of poet Hovhannes Tumanyan at the entrance. In addition, stunning vista points of the lush countryside and many khachkars (cross-stones) that date back to the 9th, 13th, and 14th centuries, can be found throughout the town.
The local residents are generally involved in agriculture and raising cattle. However, there are many small industrial plants for processing food such as dairy products, as well as garment manufacturing and producing building materials. Among recreational sports and activities including wrestling and chess, football (soccer) is the favorite. There is even a municipal football stadium with a small capacity.
Through Peace Corps, Brian is working with the Children of Armenia Fund (COAF) coaching football (soccer) for girls of Lori called GOALS (Girls of Armenia Leadership Soccer), and is involved with the project titled "SMART Center in Lori" aimed to increase accessibility of technology to these rural areas. Some elements to these smart classrooms in the center include English classes with the focus of using basic computer software as a start.
Brian described how starting a girls' football (soccer) team is not just about the sport, but it serves as a medium to address social issues like gender norms in the community. He explained, "It's not just about girls learning how to play soccer. They are building up self confidence in ways they were never encouraged to do so before. Soccer is generally a male-oriented sport, and this assignment is changing the narrative. Many parents of the girls did not initially want their girls to play because of injury and other obvious reasons, but it's getting more popular among the girls and I am very proud of their advancements. We even had a game where the girls beat the boys, it was the best feeling for the girls, the feeling of empowerment."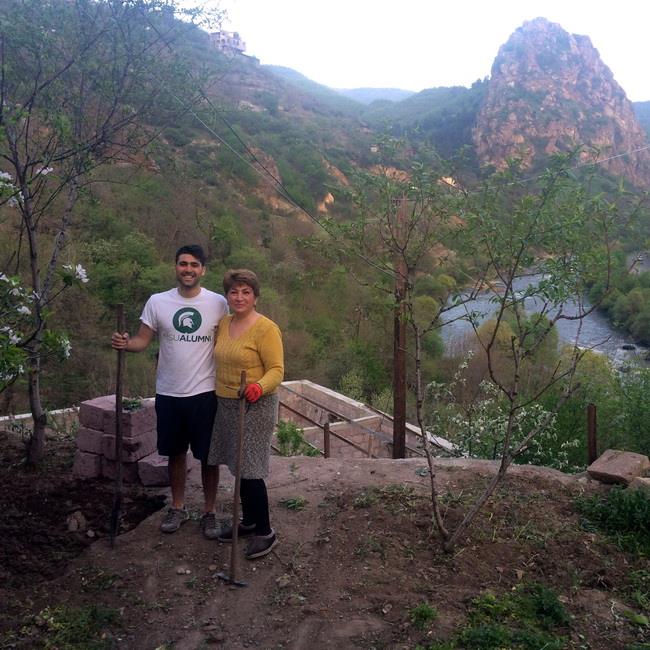 Although originally Brian didn't have a choice of the host country when he signed up for Peace Corps, he is more than happy with his placement. Before committing to the initial two-year volunteer contract, Brian graduated from Michigan State University with a Bachelor's Degree in International Relations & Comparative Studies. He knew that working with Peace Corps would help him gain valuable experience and a vast network that would benefit his career pursuits in international relations.
Brian believes that in his field, Armenia is actually one of the best places to network with many international organizations other than the ones he is currently partnered with, "Armenia is a great place to meet people and make connections quickly since it is so small, and people in general are very helpful. I quickly noticed all the opportunities here including the emerging innovation and technology industries and startups popping around everywhere. What I like the most is that it's all very progressive and tends to attract very motivated people who are here to make a difference. It's great to see how forward thinkers are able to see results rather quickly because Armenia is on a smaller scale," claimed Brian.
A few other honorable mentions that Brian admires about Armenia is that it's a fairly safe place to live, the capital Yerevan is fun and easy to get around, and the breathtaking architecture and views of the countryside make living in Armenia worthwhile. Also, when he speaks Armenian as an "odar" (meaning someone other than Armenian) people get very happy and feel appreciated.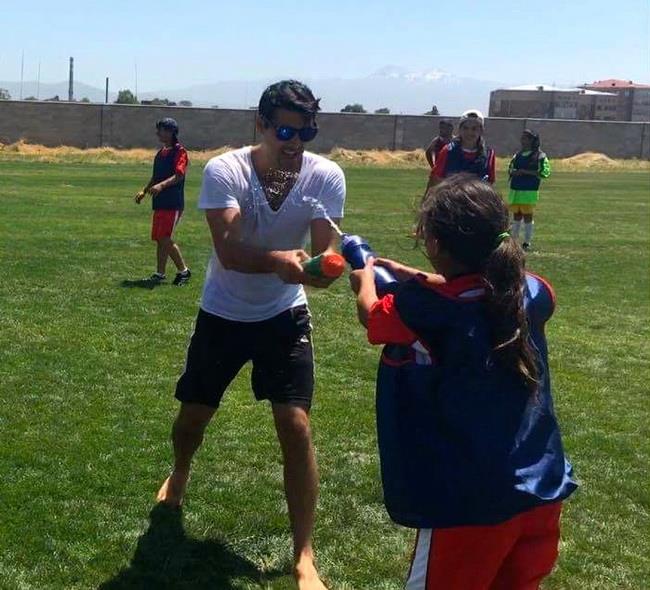 Before his arrival in Armenia, he knew very little about the culture other than an occasion when his Armenian friend from Detroit had introduced him to dolma as a precursor of what was to come. Since Brian is of half Italian and half Jewish descent, he was able to integrate rather smoothy (except for the adjustment to a slower-paced lifestyle) because he was able to draw parallels from both cultures with Armenian. On the Italian side, he was already familiar with the intense hospitality and warmth of the people, and on the Jewish side, he shares a similar pain that lingers from the Armenian Genocide because of the similar fate due to the Holocaust that affected his own family.
When asked about his extension of another year with Peace Corps in Armenia, Brian stated, "I want to apply for grad school, but I have some time in between so I would rather stay here in Armenia and make a difference until then. I gained so much experience and developed so many unique skills that will help me in my lifelong endeavors, and it's safe to say that Armenia has been a great jump start for me," he concluded, "I never get tired of the marvelous beauty of the landscape and people here, and I am happy to see how much Yerevan has developed over the past two years, and I am sure that it will continue to develop steadily for years to come."
Read More
See all