My Impact
How You Can Be Helpful Today for Artsakh and Armenia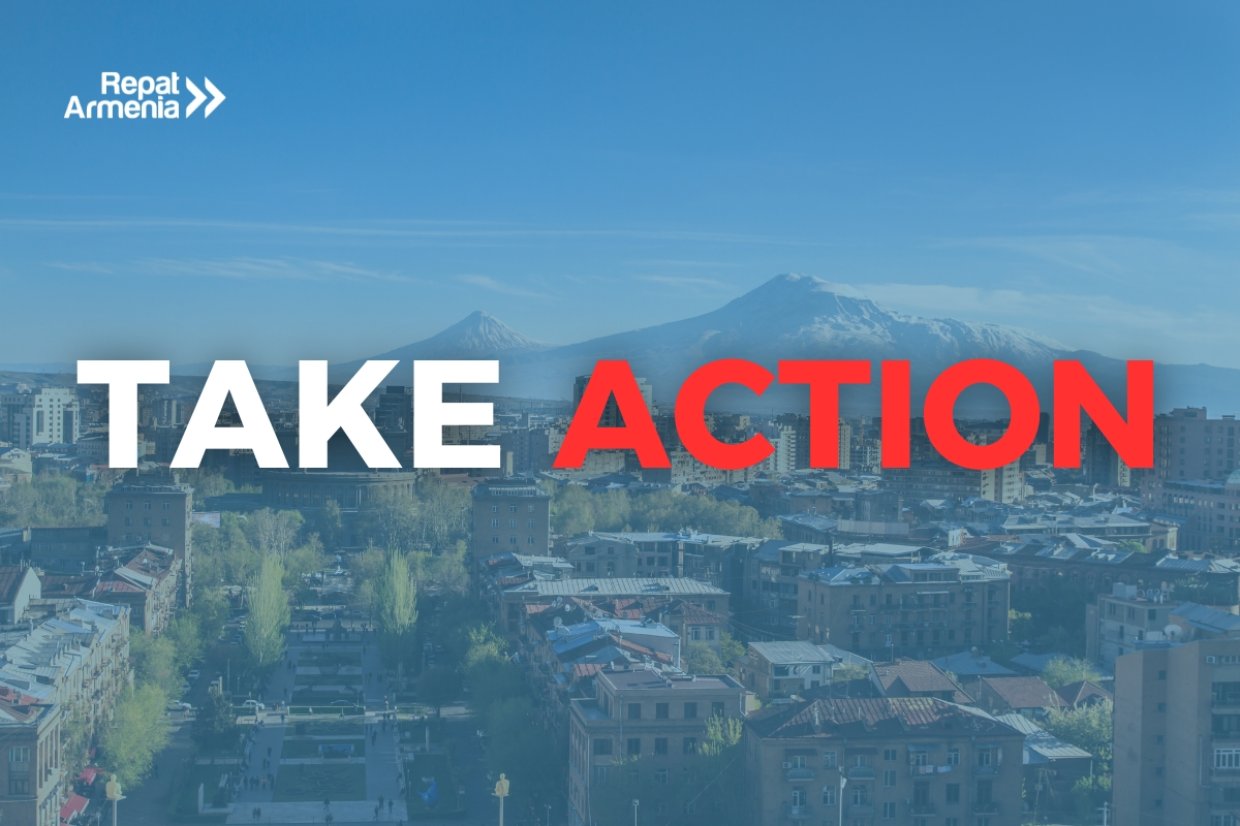 In this review, we will share with you the most active NGOs that are currently mobilizing resources to support our compatriots from Artsakh. It is nice to see that the majority of them were initiated by representatives of our Diaspora, repatriates, and expats.
VIVA (Doctors and Volunteers of Armenia)
charitable NGO was established on the 7th of April, 2016 during another military aggression of Azerbaijan against the Republic of Artsakh. The main mission is to provide the hospitals and clinics of Armenia and the Republic of Artsakh with hospital facilities, medicaments, materials, and instruments. Transparency and openness of their work are one of the important principles of "VIVA". The foundation was co-founded and is led by a doctor repatriate from Russia
Tatyana Oganesyan.
How you can support:
Raise awareness

Volunteer
VOMA
is an alpine infantry training camp for Armenian citizens and Diaspora Armenians from different backgrounds and ages. The courses include shooting preparation, physical training, first aid in realistic scenarios, mountaineering and alpine training, nighttime tactics, offensive and defensive group exercises, ambush and counter-offensive tactics, and horseback riding.
How you can support:
Raise awareness

Participate in training courses

Help to build defensive fortifications of the 2nd and 3rd lines of defense
Transparent Armenia Charitable Foundation
provides sustainable humanitarian assistance with true transparency of funding, activities, and costs. Initially, it was a grassroots initiative launched during the war in Artsakh to collect humanitarian aid for those affected by the war. The organization was co-founded by
Haik Kazarian
, a repatriate from Canada, and is funded entirely by donations from friends and family living in Canada, USA, France, Latvia, UAE, Ukraine, Russia, Spain, Australia, and many other countries. You can watch a short documentary video about the work of the foundation
here
.
How you can support:
Raise awareness

Donate food or clothing

Volunteer
All for Armenia
was founded by a group
of Armenian repatriates and Diasporans
committed to the well-being, stability, and future of the homeland. At the start of the 2020 Artsakh War, the repat co-founders decided to use their presence on the ground and harness their international network in order to provide front-line aid for the refugees of Artsakh and maximize their impact during this critical time for Armenians. Their work was expanded beyond emergency aid into long-term projects.
How you can support:
Raise awareness

Donate food or clothing

Volunteer
Kooyrigs
develops and implements community projects that serve women, children, and other marginalized groups in Artsakh, Armenia, and Lebanon. The team is based in Armenia, where it creates impact by launching emergency response initiatives, investing in community spaces, establishing leadership programs, and hosting events to inspire connection.
How you can support:
Raise awareness

Donate food or clothing

Volunteer
Armenian Food Bank
was founded by a repatriate from Canada,
Michael Avetikian,
who moved to Armenia before the Artsakh war in 2020. It is an analog of foreign organizations that help the poor or those who find themselves in a difficult situation with the most important things - food, hygiene products, medicines, etc. The organization supports those in need throughout Armenia and Artsakh.
How you can support:
Raise awareness

Donate food or clothing

Volunteer
Спеши к добру (Hurry to Good)
for over 10 years, the foundation has been helping the children of Armenia in various areas. The fund is run by a repatriate from Russia
Elena Akopyan
. Right now, you can support the fund in their humanitarian aid campaign for the Artsakh refugees.
How you can support:
Raise awareness

Donate food or clothing

Volunteer
Ethos Foundation
is a charity foundation that helps people affected by war. It was established
by Russian expats
, for whom Armenia became their second home. The foundation adapts to a new life in Armenia and provides humanitarian assistance, temporary accommodation, help to find a job and housing, provide psychological and legal support. The foundation's projects involve more than 100 volunteers who are ready to help at any time.
How you can support:
Raise awareness

Donate food or clothing
Zinapah National Foundation for Servicemen Insurance
was established in 2017 to provide stable, equal compensation for the well-being of fallen, missing, and disabled soldiers who defend our homeland. It operates according to the law and consistently implements its mission. The Foundation's resources are collected from mandatory monthly payments of taxpayers in Armenia and Artsakh (based on the amount of income), as well as from voluntary donations received all over the world. The primary principles of ZINAPAH are:
Ensuring the financial stability of the soldiers and their families who sacrificed their lives or health for the defense of our homeland

Providing fair and equal financial compensation

Accountability and transparency for our activities. On the

website

, you can see both mandatory payments and donations made by you.
How you can support:
Raise awareness
Zinvori Tun
is a rehabilitation center that helps war veterans who were mutilated, injured, or disabled during military service or defending the homeland. Zinvori Tun was created on the basis of the charity NGO "Support to Wounded Soldiers and Disabled Military". The NGO was established in 2017 and has been operating as an initiative since 2014.
How you can support:
Raise awareness

Volunteer
oqni
is an Armenian non-profit NGO founded by a team of Armenians of various professional backgrounds
from the Diaspora
(USA, Canada, France, UK, Germany) and Armenia. The goal of the organization is to create a full cycle of new-generation prostheses with integrated rehabilitation support, produced in Armenia, in order to restore the abilities of war victims and amputees at no cost. The oqni team is determined to make Armenia an innovation hub and promote advanced AI-controlled 3D printed prostheses through a joint R&D platform.
How you can support:
Raise awareness

Volunteer
Armenian Wounded Heroes Fund
is a non-profit organization dedicated to supporting and empowering wounded Armenian soldiers. The foundation's all-volunteer team in the US and Armenia implements complex and effective projects: rescue systems and first aid supplies; advanced medical care; support for health, nutrition, and moral-spiritual health. The founders of the foundation cover all administrative expenses and deliver 100% of every dollar donated to the wounded and fallen heroes of Armenia and Artsakh.
How you can support:
Raise awareness

Volunteer
Frontline Therapists
is a nonprofit organization designed to provide sustainable emergency mental health services to areas of need. Created in the wake of the 2020 war in Artsakh, with thousands of Armenian soldiers experiencing unprecedented levels of trauma from the field, the need for abundant mental health services became evident. The NGO was founded by
Arpe Asaturyan
a repatriate from the US, a Licensed Clinical Social Worker and Licensed Psychotherapist.
How you can support:
Raise awareness

Volunteer
Armenian General Benevolent Union (AGBU) is the world's largest non-profit 501(c)(3) organization devoted to upholding the Armenian heritage through educational, cultural, socio-economic, and humanitarian programs. AGBU maintains multiple initiatives in Armenia and Artsakh administered through the AGBU Armenia office in Yerevan. In addition to programs aimed to empower women, support children, provide for students and artists, and assist the elderly, AGBU has been a longstanding active on-the-ground relief provider in Armenia and Artsakh. Most recently, the AGBU Global Relief Fund has focused urgent and effective humanitarian aid resulting from the Artsakh War of 2020 will continue to provide emergency relief, assist international and local NGOs in delivering aid, and set up long-term assistance programs to help the people of Artsakh.
How you can support:
READ MORE
See all