My Way Home
Alexander Maslenkov - Digital Nomad from Belarus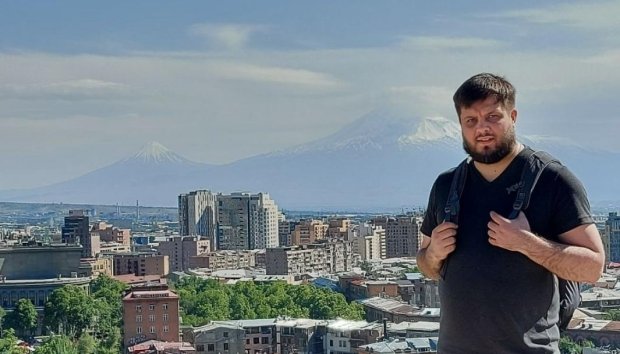 We don't talk a lot about the Digital Nomads, these people who work remotely from Armenia. If they chose Armenia, there is a (or multiple) reason for that. Our first digital nomad is Alexander Maslenkov from Belarus. He moved to Armenia 3 months ago and currently, he remotely works for the international company
SendPulse Inc
as a Software Engineer. We asked him a few questions.
When did you move to Armenia and why at this moment?
Hi, I came to Armenia in May on the advice of a friend. He used to be in Yerevan and spoke well of the city and people. The war between Russia and Ukraine, although I am a citizen of Belarus, influenced the move, but I have no desire to participate in this conflict.

Why Armenia instead of another country?
Before moving I had a choice between several countries: Poland, Lithuania, Georgia and Armenia.
The main criteria were:
1) Locals understand Russian or English
2) Easy to get residence/work permit
3) Possibility to go home from time to time to meet relatives, parents and friends
4) Developed IT sector
5) Cost of living (rent/service/product cost)
After weighing all pros and cons my choice fell on Armenia.

What is your work schedule?
Now I work in a company where I have a distributed team (people live in different cities and countries), so the schedule adjusts to the work processes.
8:00 wake up
8:00 - 9:00 breakfast and shower
9:00 my working day starts, I browse my mail and plan daily work tasks
10:15 - 10:40 daily meeting with my team
14:00 - 15:00 lunch
15:00 - 20:00 I finish my work day
Then begins the free time and what I will do depends on the mood and weather, and whether there are any events today.

What are the advantages to be a digital nomad in Armenia?
Armenia has been developing well in the IT area for the last few years, so there is a possibility to find a community in this field to develop. Yerevan is also a safe city, and in the city center you can find a lot of cafes where you can work and relax. I also like hiking and trekking, I love to walk in the wild, mountains and forests and Armenia provides all this, for me it is another advantage.
Did you consider working remotely from another country?
Since the beginning of 2022, I moved entirely to remote work. Now I live in Yerevan, but I am also considering living in another country this year.

Did it reach your expectations to work from Armenia? Why?
In general, yes, Armenia is a comfortable country for living.
Pros
1) Safety
2) No language barrier
3) Friendly local people
4) Combination of quality and price of products and services
5) Nature and active rest
Cons
1) The rental price, the cost have already gone up dramatically
2) Public transport is not developed very well (cheap taxi service is really helpful)
3) Not enough co-working spaces (they kind of already are, but not to the extent that they should be)
4) Internet speed
Do you consider other cities for remote work? Why?
Yes, I would like to work and live in Asia for a while. I would like to visit Thailand and Indonesia. I want to see new cultures, values and lifestyles. Plus in these cities quite a lot of expats from other countries that also work in IT.

According to your experience, what should be improved to make Armenia a better destination for remote work?
It is necessary to develop the IT ecosystem as a whole, the stakes should be to attract start-ups, should be more events on technological topics. It is important to see how the competitors develop and continue to learn from their experience, and then create your own projects. In my view this is a systematic efforts, it is also necessary to do PR campaigns in other countries, because now little is known about IT in Armenia in other countries.

What would you say to attract other digital nomads in Armenia?
Armenia has a rather complicated history, has had many tragic periods, but there is no anger towards the outside world in Armenian society. Therefore, if a person creates a social product he should visit Armenia and communicate with people.
Where do you work and what is your position?
I work for the international company SendPulse Inc as a Software Engineer.

Anything else you would like to add?
I think, you should travel as much as you can to explore the world, meet new cultures, to be broad-minded and to construct an adequate worldview. After Covid the world began to switch to remote work many people get an opportunity to travel all over the world without quitting the job. So to say to discover the world in the comfort atmosphere. If so, why would not use it!
Read More
See all