My Way Home
19.05.2018
Armenian by Birth
Annman Kantsyan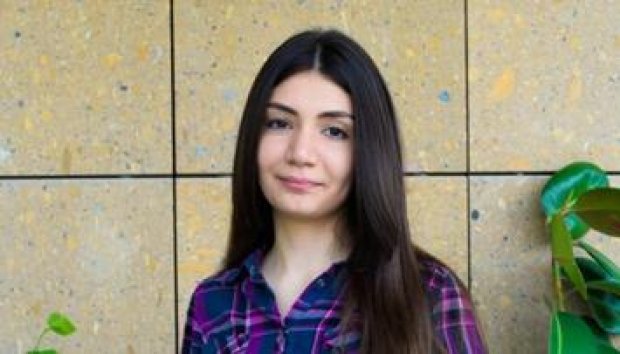 It is hard to explain where Annman comes from. She has lived in so many different places, she is a woman of the world it seems. Simply put, however, she is Armenian. Born in Armenia and raised in Moscow, Annman enjoyed a childhood where her parents tried to keep the Armenian connection within the family, at least for the first decade or so of her life. At 12 years of age, her family moved to Morocco for five years before moving once again. Morocco was very different from Moscow and Armenia, but there were some similarities despite the exotic nature of the land. Her family decided to send her to the United States at the age of 16. From the age of 14-15, Annman wanted to move to Armenia, to live and study here. However, that would mean she would be alone. After six months in the United States, before the age of 18, she decided enough was enough.

She came to Armenia by herself, lived alone for a year, and finally managed to convince her family to move over as well. Yerevan has been home to her since May 2013.
"It wasn't difficult at all really. The only difficulty was getting into school because I still had to finish the last year of high school."
She kept receiving rejections from the schools because she was alone, without her parents in the country. She finally got into a Russian school on Komitas. Once she graduated, AUA would be home for the next few years. Changing over 15 schools in 11 years of study was certainly no easy feat, but she made it through. This year she graduates from AUA with a BA degree in Business.
The biggest stereotype in Armenia, something that seems ingrained in everyone's minds, is that one cannot find a job without connections. This apparently also applies to the universities. "I seemed to continually be proving to myself that this stereotype is false; I first applied for an internship at
TSD (Technology and Science Dynamics)
during my second year, but I stayed for only a month doing research on Arabic countries in sales and marketing. When I left, I went over to Microsoft Armenia for three months, something I continue to help with to date, before getting involved with innovative startups."
She had her own ideas as well, which took shape as she worked with multiple startups as she studied. Practical experience was necessary, however, before starting her own business. This led her towards
Volterman
, the world's smartest wallet at the moment that has raised over two million dollars through crowdfunding. Annman has done everything that was necessary in her positions, gaining experience and honing her skills, despite it not being part of her career objectives at first. She still works at Volterman as she is working on collecting all the resources to pursue her dream.
What is Annman's idea? Despite being told constantly that she would need a decade to create the artificial intelligence platform she has been working on, it will soon exist as an application where the program recommends productive alternatives to do in your spare time based on an AI algorithm. It works with your preferences, looking into your schedule, your likes and dislikes. While some are skeptical about the idea taking wing, others have shown immense excitement for it.
Annman is also a part of
Global Shapers
, having been introduced to it by contacts who she had known before the fact. The projects were always interesting to her and while she was too young to apply initially, once she did, she was easily accepted into the organization. Considering she had moved from the United States, she found life in Armenia rather different in a few important ways.
"There, the government does everything for you; here, you have to do something for the country. This was my motivation to, first, come to Armenia, and to then join Global Shapers and have an impact. Of course you can do things alone, but with people around you both motivated and with the same mentality, there is so much more you can do in the same amount of time."
Armenia is like an experimental startup for Annman, with things constantly changing for the better. While the negative mindset exists heavily, there are many who are more positive, who see the bright future ahead.
When it comes to advice given to others planning to move, she recommends having the courage to do so. "People don't often see the good side of Armenia, but most of it is good! It takes courage to first convince yourself and then those who are trying to stop you. You should give it a try, though. Once you come, you will fall in love." Despite being a traveler most of her life, Armenia has become home, a foundation to build a life on for Annman. "Don't be skeptical about things. It's not as difficult as it might seem. If a 17-year-old girl could survive in Armenia all alone for a year, then you certainly can as well."

There are so many opportunities here, she states, with the country being on a crossroads that allows for exposure to all parts of the world. "Think of Armenia on a global context, while taking into account the local culture. Armenia is not a separated island. We have a great diaspora and a great network of people connected to one another. If you see problems on a local levels and try to solve them globally, you can achieve a lot."

As for networking in Armenia, it is something that should be taken advantage of. You should be engaged, participate in different events, and capitalize on the fact that people in Armenia are open to discussions and sharing their ideas. Know how to leverage your relationships, which is not a bad thing at all. It's not that you cannot do anything if you do not know people, it simply makes it easier to get to know the right ones. "Be active, try to meet people, and engage as much as possible." That is the best tip Annman can give to those who consider the move.
"It's hard to tell what Armenia will be like in ten years, but even now you see the patterns of change. Armenia is really becoming a hub for innovation and technological advancements." While there is a lot to be done yet, the innovative drive in Armenia is pushing the country towards its potential. As for the challenges, while she was told that there would be a deficit in resources, both financial and intellectual, that has not been the case. Instead, the biggest challenge she had was finding professionals who truly understand machine learning and artificial intelligence. Those who exist already outsource their work to other countries.

High-level professionals in all areas are needed in Armenia, and people with a more global knowledge is what will push the country's development forward. Repatriates are exactly what Armenia requires right now, and successful examples will provide a positive impact on the population's mentality, propelling us all towards success.
Interview by Rima Yeghiazarian
Written by Tamar Najarian
Read More
See all