My Way Home
22.07.2016
Armenian by Birth
Tenny Adamian

| From Tehran, Iran | Moved in 2015
---
Tenny Adamian's love for drawing and painting begin in Tehran during her early childhood, where she grew up in an artistic Iranian-Armenian family. After finishing school, art remained a hobby as she started to work in the administrative field, but quickly realized that this type of work wasn't for her. Tenny began searching for more creative opportunities and found what she was looking for in Armenia in 2003, taking an entrance exam for Yerevan Institute of Fine Arts and receiving a government-funded scholarship to begin a new journey as a Masters' student in Armenia.
She began working as a junior designer at a Yerevan agency while completing her five-year degree, and after graduating she moved to a full time position in the same company. But she found that corporate design work still wasn't satisfying her creative ambitions.
"When I was young, I thought it would be so cool to be called a graphic designer," she says. "But I later realised would prefer to be known as an artist."
In 2008, she met her future husband, Tom Allen, a British travel writer who was attempting to ride a bicycle around the world and who happened to be passing through Yerevan (
TomsBikeTrip.com
) when fate brought them together. As a result, Tenny became curious about travel and outdoor pursuits. Her first adventure with Tom was a bicycle journey from Armenia to Iran in 2008 (now part of an award-winning film called "Janapar"). Tenny's travels continued in 2010 when she spent several months cycling across Europe through Italy, France, Belgium, and the UK. More recently, she spent several weeks in 2014 cycling across Germany, Switzerland and Austria. "
The challenges and the experiences that unconventional traveling brings are exciting and fulfilling",
she says.
After living in the UK for some time, Tenny and Tom decided to settle again in Yerevan in 2015. It was a difficult transition to begin with, but soon they learned "not to take life too seriously." Now, Tenny enjoys life in Yerevan, saying that
"you don't have to schedule things in advance"
and
"you can get around quickly and easily"
, since Yerevan is so small and the lifestyle so laid-back.
Tenny is now an accomplished
freelance graphic designer
. She has worked with numerous companies in Armenia and abroad, on projects ranging from websites to branding to marketing materials. She has lived and worked in Yerevan for long enough to see things change in the industry.
"I have noticed how technology has advanced here,"
she says.
"There's been a great deal of improvement in the graphic design field, and it makes me happy to see more tasteful and professional work being produced."
Speaking of educational opportunities for the next generation of designers in centers such as Tumo, she says:
"These kids are working with programs that even I'm unfamiliar with!"
In addition, Tenny can now confidently call herself an artist. As well as holding several exhibitions in Yerevan and taking commissions for her portrait work, she also organizes art activities at the Impact Hub Yerevan, using art as form of therapy and encouraging her fellow co-workers to de-stress for an hour or two after a busy week of work.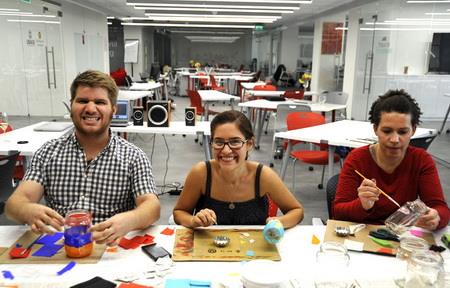 She hopes to use her experiences gained through traveling, her passion for art and graphic design skills to be an educator for the younger generation in Armenia.
Interview by Tatev Babayan
Edited by Lilit Bazikyan
Read More
See all